LDPlayer is the fastest and lightest Android Emulator for PC
How to download the ld player emulator, the fastest and lightest Android emulator for the computer, and an explanation of how to use and run games on the LDPlayer 2022 emulator.
Android emulators are very popular, and this did not come out of nowhere, but rather because of the features that they offer by running Android apps and games on PCs.
It allows you to play popular games like PUBG mobile, Call of Duty Mobile or Garena Free Fire through your mouse and keyboard.
It enables you to enjoy the big screen, and in this article we will learn about one of these emulators which is the LD Player emulator.
What is LDPlayer emulator?
LDPlayer emulator is an emulator similar to other Android emulators like Bluestacks emulator and smart gaga emulator, it is free and easy to use, it allows you to use Android 5.1 unlike other emulators that only enable Android 4.4.
It also enables you to play modern video games from PUBG, Free Fire, and others smoothly and without affecting the device's resources.
It is worth noting that the emulator does not come in the App Store but you can install it to download other applications and games, except for those available in the emulator.
Features of LD Player Emulator
There is no doubt that LD Player emulator comes with many advantages, including:
Ease of use and free in all the functions and features offered by the emulator.
The emulator comes pre-rooted, so if you have an app that needs root, this will help you.
It is possible to run two virtual Android devices through the emulator and this feature you can use to run 2 WhatsApp, for example.
LD Player comes with comprehensive settings to control screen resolution, screen orientation, as well as select device capabilities and audio settings.
It enables you to have many games and applications pre-installed on the emulator.
Install apk files directly in the application, whether from device storage or external memory.
LD Player emulator has options to customize screen size, resolution, and game control.
ldplayer 2022 requirements
ldplayer 2022 emulator requires more resources than other emulators, as it requires at least:
AMD Ryzen 5 Quad-Core . Processor
8 GB RAM
256 GB storage
Graphics Card NVIDIA GeForce GTX 1650
In order to get the best performance of ldplayer 2022 emulator, follow these tips:
Enable the Virtualization Technology feature on your computer (Intel VT-x / AMD-V)
Keep your graphics driver (NVIDIA/AMD) up to date.
Install LDPlayer on an SSD and make sure you have enough disk space.
Close other programs that are consuming your processor and RAM while using LDPlayer.
Also, there are some games that require specifications that differ from other games.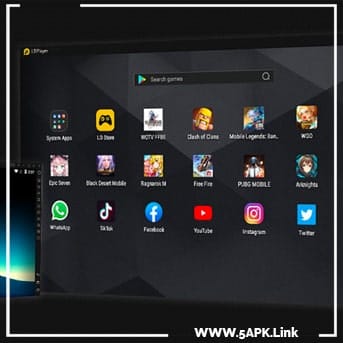 How to download ld player emulator
In order to download ld player emulator all you have to do is:
Head over to the LD Player website by clicking here.
Click the Download LDPlayer button.
After downloading the ld player emulator, you have to run it to show you this window, you have to click on the Install option.
Wait for the installation process to complete, and click start.
How to use ldplayer 2022 emulator
After downloading and installing the LDPlayer 2022 emulator on your device, you can use it quite simply but before we get started it is best to familiarize yourself with the emulator's user interface components.
In the right part of the emulator interface, you will find that there is a set of options in the form of a vertical menu, and these options allow you to go to settings, control volume and screen size, and in addition to screen recording, it also contains options related to operating multiple virtual phones, and taking a screenshot of the emulator .
When you look at the bottom right of the screen, you will find that there are three options which are the Home button, the Back button, and the Options button that allows you to move between open applications and close them.
In the middle you'll find a group of pre-installed games and apps, and this window is where the games and apps are displayed later.